"
MAGIC EYE" PRINT
CURTIS ROTH X A83 X DISC ISSUE 1.0 "PROTOCOLS" FUNDRAISER
GIVE YOURSELF A HEADACHE TRYING TO SEE A STRANGER'S MAGIC DRAWING HIDDEN IN A PRINT!


EACH PRINT IN THE SERIES IS UNIQUE AND HIDES A DIFFERENT USER-GENERATED SKETCH IN A CIRCULAR

PATTERN.

THE EDITION IS CO-PRODUCED BY ITS COLLECTORS, WHOSE MEDIATED GESTURAL LABOR IS DISTRIBUTED THROUGHOUT THE SERIES. WHEN THE PRINT IS ORDERED, THE PURCHASER COMPLETES A SKETCH IN THE

THAT IS EMBEDDED INTO THE NEXT PRINT IN THE EDITION FOR A FUTURE COLLECTOR. THE PURCHASER THEN RECEIVES A PRINT WITH A DRAWING DONE BY THE PREVIOUS COLLECTOR IN THE EDITION.
PRINTED ON HEAVY-WEIGHT SATIN FINISH 8.5" X 11" PAPER IN A LIMITED EDITION OF 50
$45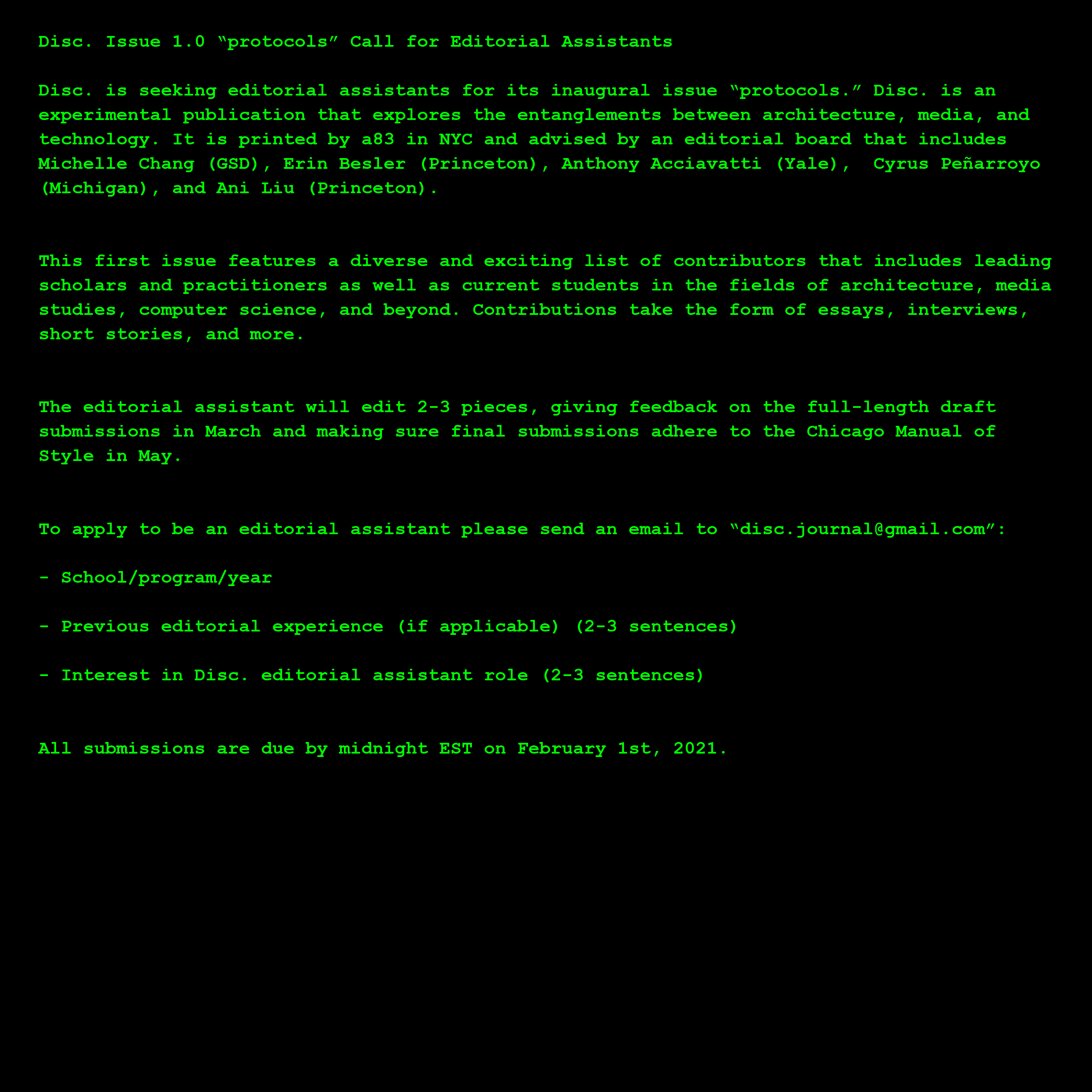 ISSUE 1.0 "PROTOCOLS" CALL FOR EDITORIAL ASSISTANTS

ALL SUBMISSIONS DUE MIDNIGHT EST FEBRUARY 1ST, 2021.
ISSUE 1.0 "PROTOCOLS" CALL FOR PROPOSALS


"THE INAUGURAL ISSUE TURNS ITS ATTENTION TO THE GHOST IN THE MACHINE, ASKING HOW WE MIGHT ACKNOWLEDGE, ABOLISH, SUBVERT, OR REDEFINE THE PROTOCOLS THAT POWERFULLY AND OFTEN INVISIBLY SHAPE OUR BUILT ENVIRONMENT."

ALL SUBMISSIONS DUE MIDNIGHT EST NOVEMBER 29TH, 2020.